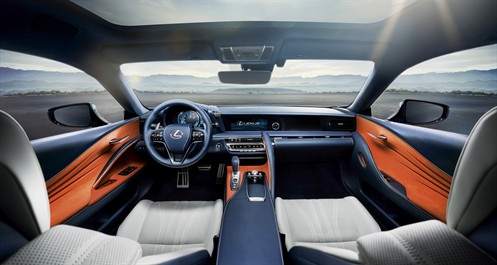 Lexus was inspired by the American Morpho butterfly's wing to produce a deeper more lustrous, iridescent blue than anything seen before.
First presented on the Lexus LC grand tourer at the 2016 Geneva Motor Show, it has now been developed for production, adding extra elements of exclusivity and hand-finished quality to the sensuously designed LC 500 coupe.
The exclusive, shimmering new shade will make the new luxury coupe stand out from every other car on the road.
"The story behind the development of this unique new colour really matches the Lexus goal of delivering to our customers an amazing experience," said Paul Carroll, the Senior General Manager of Lexus New Zealand.
The Lexus LC 500 in Structural Blue is available to order in extremely limited numbers with delivery from the first quarter of next year.
"These cars will be the choice of connoisseurs who recognise and value both the application of advanced technologies and the highest standards of Lexus Takumi craftsmanship," said Mr Carroll.
Lexus LC 500 Structural Blue models - available with a 5.0 litre V8 engine or a 3.5 litre V6 hybrid electric powertrain - are only available with the glass roof.
The cabin features a Steel Blue interior which combines three bold tones, with mid-blue materials for the upper door trim, steering wheel, instrument panel and centre arm rest, contrasted by fine white leather-accented seat upholstery and vivid orange for the shift lever surround and draped Alcantara door panels.
The 15-year quest to develop Structural Blue was a collaboration between Lexus' United States and Japanese technical centres and California-based VIAVI Solutions, a leading provider of thin-film optical coatings and pigments.
In their intensive search to create the new colour, the team studied the Morpho butterfly's wings to determine how a similar iridescent effect could be achieved with vehicle paint.
At first it seemed the challenge was too great as the desired quality could only be achieved by using a pigment with 40 separate layers. But the team persevered, improving the process until the effect could be obtained with just seven layers, making it practical for use on highly exclusive vehicles.
The pigment is used to produce a new paint in a production process taking eight months, including 12 production steps and 20 quality inspections.
The paint is applied to the LC 500's bodywork in a 15-micrometre layer between the primer and clear coats. Nano-structures - super-small flakes - in the paint generate iridescence, giving the impression of the colour constantly changing with the light.
Conventional pigment paints reflect less than 50 per cent of incoming light as a visible blue colour, but with Structural Blue the level is nearly 100 per cent. In total, 300 grams of pigment, with 300 billion pigment flakes, are used for one LC.